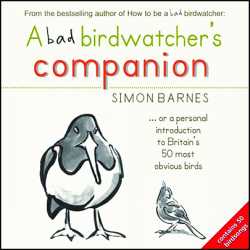 Just started listening to the audiobook A Bad Birdwatchers Companion, By Simon Barnes.
Delighted is how I felt listening to it.
It helped me see birds in a new light. Brought them to life in a way I never thought of before.
Normally I ignore birds just like everyone else. Yet this writer and birdwatcher described them vividly, with style and a little personality.
I find myself wanting to find these birds and see them for myself.
This is my artist drive to paint them and really see them.
But it also fits in with my philosophical leanings.
Taoism is about natural form, birds, water, lakes, waterfalls, bamboo as a way of conveying the meaning of its ideas of naturalness, spontaneity, effortlessness.
So I can synthesise my philosophical side and my artist side. The symbology of the Native Americans and other tribal people are also possibilities.
I remember again my childhood and how certain birds, like the Golden Eagle, became favourites for its size and the Condor as the same. I think I had a poster of the eagle.
Perhaps it's a direction I can take in my art, falconry. Not just the birds but the people too. Also closer to home, garden birds on and a bird feeder.
I've always thought that birds and wildlife were somewhere else. But with birds, I realise they're closer to home than I thought, you can hear them around.
I still have some way to go, but I feel a newfound desire to get out there in the countryside and see them for myself, not just as images on a screen.
This to me is what great art does, inspires people, and helps you see the world in a new way.