'Insofar as the senses show becoming, passing away, and change, they do not lie. But Heraclitus will remain eternally right with his assertion that being is an empty fiction. The "apparent" world is the only one: the "true" world is merely added by a lie'.

Friedrich Nietzsche, Twilight of the Idols
One of the most puzzling ideas Buddhist is the notion of Emptiness or Sunyata. It's an idea put forwards by the philosopher Nagarjuna. The most important Buddhist thinker after the Buddha proposed the idea around 200AD, and so started the Mahayana tradition and the Madhyamika school.
The teachings on Emptiness appear in many sutras, including the Heart Sutra, which indicates its importance. But what is Emptiness as Buddhists understand it?
Sunyata is a development of the idea of No-Self or Non-self put forwards by the Buddha.
Think of the Metaphor of a net, such as Indras Net, used to describe the interconnected, inter-penetrating cosmos in Buddhism.
'Imagine a multidimensional spider's web in the early morning covered with dewdrops. And every dewdrop contains the reflection of all the other dew drops. And, in each reflected dewdrop, the reflections of all the other dew drops in that reflection. And so ad infinitum. That is the Buddhist conception of the universe in an image.'

ALAN WATTS
No jewel or drop is at the centre or the edge. There is no separate existence. Or what defines the area of a rectangle, the breath or the width?
Insight into Sunyata is necessary to understand and become awakened or liberated from suffering.
I'll explain Emptiness by first outlining another Buddhist Idea, that of Two Truths.
Two Truths
I first started to understand Emptiness through the Ship of Theseus thought experiment, also known as the Sorites Paradox or the Fallacy of the Heap.
Consider any object or thing; if you keep replacing its parts, at what point does it no longer remain as that same thing?
Say, for example, a car; if all the parts are replaced, there's nothing left of the original, it's no longer the same Car. But as the Car is changing, when does that moment take place?
It applies to all things; for example if I have different cells, how is it still me? But it also includes our thoughts, ideas and experiences.
A noteworthy point is the same question can also be applied to the parts. Parts are made up of smaller parts. You can keep drilling down into smaller and smaller pieces, but you'll never find a part that doesn't change.
This paradox deal with realities, the changing one we are given with our senses and the one we craft with our ideas and language.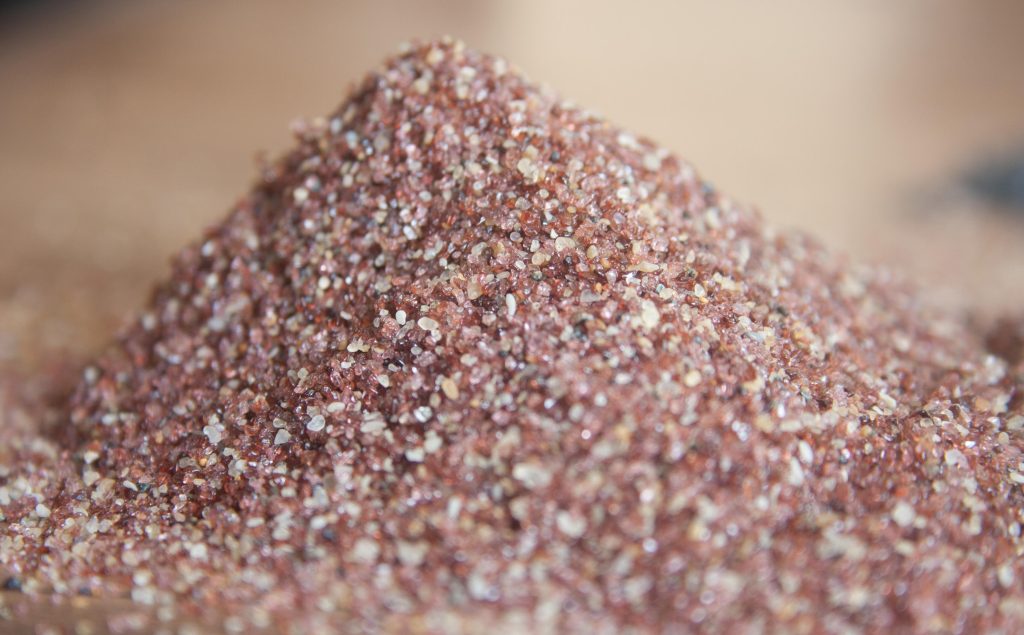 It shows a difference between reality (no labels, interconnected, in flux, see below) and the concepts, things and labels we use to describe it. (Which we invent for ourselves.) Our ideas point to reality; they don't encompass it, think of language as like a signpost.
Kaz Tanahashi translates Sunyata as 'boundlessness', which I feel is a better term because Emptiness is often mistakenly thought of as Nothingness, as it is 'not real.' It's all real, just not in the way our mind implies to us.
In Tanahashi's words, 'Nothing really has any boundaries; nothing is actually separate from all that is.'
There's a Conventional truth and an Ultimate Truth.
Sunyata
The Ultimate Truth is Sunyata; descriptions are impossible because they use words or imagery.
Sunyata says there is no fixed, perpetuating existence. A static reality is merely an idea we carry. Insight into this Truth is necessary for enlightenment.
Such understanding in Japanese Buddhism is called Kensho, the insight into the true nature of the Self.
We create artificial boundaries through our mental activity for practical use. But it's wrong to claim the universe itself follows our boundaries and descriptions. That implies the cosmos bends itself to fit our definitions. Such an attitude places human knowledge as authoritatively superior to the cosmos itself.
Slippery when wet
The idea of Anatman or Sunyata is slippery because it's hard to grasp with the intellect. But that's the point it makes you can't grasp with the intellect. There is always more to reality than the our minds conjure up in our ideas. Remember our ideas are abstractions of reality not reality itself.
We think of a 'thing' as having a substance to grasp, an essence. But the reality is not graspable, knowable because there is no essence to grasp. So it's a cosmology of 'no things'… of nothing.
The point of this negative, privation language is to undercut the reflex activity of clinging that causes us to suffer. By saying it's not this, ('Neti, Neti' in Hinduism), we can readily accept there is nothing to cling to.
'Empty of intrinsic existence' doesn't mean non existent.'
A pitfall with Emptiness is becoming too attached to it as it if any other concept. We can mistake Sunyata as an idea we can grasp, just like any other concept. But Sunyata is not an idea to hold onto.
Perhaps it's so hard to understand because it uses the language of absence, an idea that explains what's not there, a privation.
We usually denote what is there, but it's not unheard of to indicate the lack of something—Asymptomatic, Amoral, Atheism.
It's like the hole in a doughnut. 'The doughnut has a hole', but how can you have something that's not there? Instead is the absence of a doughnut.
Pointing out the absence of something is widespread. There's 'white space' in graphic and web design, the absence of page elements.
The Japanese term Mu, has many meanings but also denotes an absence. In Earlier Buddhism, No-Self or Anatman means the lack of Atman.
Another way to put it is to try and describe birdsong. Simple chirps are easy to put into words because the word sounds like the song. But what of other birds?
Odd buzzes, whirring? It's impossible to convey the sound with words, to capture it in a concept.
Reality can't be grasped, only experienced.
Buddhism says this inadequacy is applied not just to birdsong but also everything. Linguistic and conceptual inadequacy. that Buddhism understand that leads to Sunyata and liberation.
Language of Non-Dualism
Buddhist language (As well as Hindu and Daoist) also uses the idea of Nonduality or Non-Dualism.
Reality, i.e. the cosmos, is beyond good/evil, up/down, right/wrong etc. That's the human-constructed system.
We describe reality in words, concepts theories, yet reality never fits itself to those ideas.
To define is to make things smaller by placing boundaries around them. A Nondual approach recognises the cosmos is boundless, not defined by any ideas of our ideas.
It's all the description of an enlightened mind, a boundless mind not caught up in the sticky web of conceptual thought.
You can't get your head around it because that's the point; your mind can't get beyond conceptual ideas and language—Sunyata is ungraspable. It's a Sisyphean task to try, but we can experience it directly. Therefore, the cosmos, reality, will always be unknowable and mysterious. It goes about its business regardless of what we think or believe.
So what does Sunyata tell us?
With a reality devoid of fixed essence, beyond the dualities and categories we invent, what does this tell us about ourselves?
Western philosophical thought is based upon essences; you might call it the Atomos, from the Greek meaning Uncuttable or undivided.
There were the personal Atomos, the Soul, the essence of objects, and the Cosmic atoms, A supreme God. Then, of course, there is the scientific Atom.
It's all the same, the idea of a stable, individual bedrock to existence. It's Essentialism, categorising people and things according to their essential nature.
Buddhism is, therefore, Anti-Essentialist; there is no permanent basis to existence: to exist is to change.
We ask questions of life, 'what is real?', or why are we here? Searching for meaning and purpose outside of ourselves. Buddhism doesn't have these answers; instead, it asks a better question.
Why do we need the answer? Why are we so desperate for answers. It brings us to what Sunyata can do for our suffering.
Suffering
How is all this related to the suffering we experience? I will explore this more in other posts but briefly.
Our suffering is dissatisfaction, Dukkha, arises because its causes exist.
The idea that we are alone, our neediness for certainty and security and the grasping for it is where suffering arises.
This habitual grasping is founded upon the falsehood of a fixed self out there to be found.
The practise of Buddhism is to study and learn about the illusions of the mind. To let go of the grasping and, in so doing, relieve suffering by addressing the causes of suffering.
So what is the Self?
If the Self is not this fixed idea, what is the Self, because we do exist.
The Self is not something to dig down and excavate but arises with the connections to the world.
Your Self is the fluid, emerging, becoming in each moment. Our Self is this perpetual experience we're having.
CONC
Nagarjuna teaches Sunyata, the Truth of our existence is not fixed with an enduring essence. Existence is a process of change. We're far too attached to the notion of a fixed enduring identity or Self, and we cling to that story.
Sunyata goes a bit further than Anatman by showing no essence to anything, people, objects, even the cosmos.
We have the ideas we invented and the cosmos they point toward. Our thoughts may conceive of a self, but the cosmos does not need it.
'Conceptual truths can never be the ultimate Truth because they're constructed by ourselves. Sunyata as a word points to whatever is unconstructed, or fashioned by us.'
Think of Sunyata as
The Truth about reality is changing and interconnected.
Sunyata can't strictly be understood because to understand is to conceptualise
Sunyata says there is no essence, so Emptiness can't be grasped. There are 'no things', Even Emptiness itself.
To reduce suffering is to recognise there's nothing to attain, to grasp; instead. Buddhism teaches it's more refraining from our habit of grasping.
Sunyata reminds us life will always be a mystery. So we learn not by thinking but by doing.
Our suffering happens because we engage the world with a myopic understanding. We think of the Self as real, not a convenient fiction.
Sunyata shines a light on our insecurity and neediness, the cause of our suffering. Our minds create the suffering we experience, so the solution is to know ourselves and how the cosmos works.
I see bodhisattvas
Who have perceived the essential character
Of all dharmas to be without duality,
Just like empty space.

Lotus Sutra (Kubo and Yuyama translation)
The problems with emptiness arise because we are using a tool that dissects, delineates, separates and discriminates reality into pieces. What I call the 'chopping up of reality'.
That process which happens without noticing gives us a reality made up of separate parts. Yet because we fail to notice it happening we mistakenly think our ideas about reality are reality, the Map is the territory. That's our minds that created this artificial abstracted reality.
As such our conclusions, arguments, questions and reasoning always based upon separate things, even though reality itself doesn't have separate things. It what makes such questions like 'what is real?', or 'is God real?' as absurd, and why the Buddha never answered such questions.
Think of our conscious mind as a spotlight, that sees reality through a narrow perception, like a window or a lens. Because we forget we are looking through such a tool we draw erroneous conclusions. Instead, we must try and see see reality in a wide angle shot, like a floodlight, the big picture.
We are a prisoners of the spotlight viewpoint that often traps us into wrongheaded ideas about reality and we suffer because of these illusions.
Part 2: Misunderstandings
Because the concept is not easy to grasp people have often misunderstood what emptiness means.
Emptiness doesn't mean 'nothingness'. It's not a claim about what exists or not, but it's about the status of that existence. Not having an essence.
Emptiness is not a thing itself, it's not a feature or part. Which is why the teachings say emptiness is also empty.
---
Emptiness or Śūnyatā is critical to understanding Buddhist cosmology, viewpoint and their methods. There are no essences, no defining features, elements that make things what they are.
Shunyata is often compared to space, which is defined in Buddhism as the complete openness, or 'unobstructedness'. No surprising then that in the Far East words for emptiness is also the same one for Sky. For example 空 Kū or sora in Japanese.
All things, phenomena, objects, are in motion. It's rejecting the Classical Philosophy/Theology of ancient Greece, that become dominant in the west.
The way I like to think of the cosmos is that of a hurricane or whirlwind, or perhaps a cloud.
The key insight is to understand and accept that our ideas about reality are not the same as reality. The Map is not the territory.
But also to remember that we are over-attached to the idea of essence. We cling to it because it gives us a feeling of certainty and security to know what's going on.
Buddhism doesn't care to understand any reality except the one we experience, it's doesn't speculate about what lies beyond. Because it faces the truth, we can't know if there's any reality beyond the ones we experience.
This post has been one of the hardest to write because the idea is hard to explain. I hope my rambling discourse has offered some insights into how Buddhist see our lives and the reality we experience.
For more on Buddhist ideas sign up to my newsletter.