Some of us, especially introverts and independent types like myself have a hard time connecting to others. With our work, we believe or hope we can find success all by ourselves, spending all of our time in the studio or study to paint, write and so on.
Our shortcoming is keeping all our ideas to ourselves, avoiding connection with others where we can talk about our work and share it.
We have this attitude to find success first, then get the network of friends, colleagues etc. Or we tell ourselves we don't care about money, being dishonest with ourselves when we do desire some income for our art.
I've felt unworthy of talking to others about my art because I wasn't successful at it. The limiting beliefs I had about myself led me to avoid social interaction. This of of course made it hard to find the success I wanted.
Such isolation from people has adverse effects: depression because meaningful connections are not there. Anxiety because it's hard to face uncertainty alone. Also, a lack of motivation because without connection, we lack meaning.
I have to do it differently; last year was supposed to be the year I connected more to others, then the lockdown happened.
To find any success requires a network of supporters, friends, mentors, therapists, fellow artists, benefactors even just well-wishers. It gives meaning to the work, presents us with helpful feedback and support, and is the route to finding potential buyers.
Having a network of connections both friends, business partners, other creatives makes all the rest easier.
I'll have to balance my introverted side with facing my fears, putting my work out there, connecting on forums, meeting other artists, trade fairs, and the rest.
Now we are out of the lockdown; I no longer have an excuse.
To be a successful artist of any kind, you have to share the work, tell others about your ideas. Working it out alone through contemplation is an important step, but the crafting has to lead to sharing.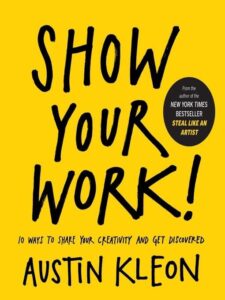 Austin Kleon's book Show Your work has influenced me, reminding artists and writers to share their progress, struggles, and work. It shows a human face behind the art; some like to see that.
Our fears about sharing forget the obvious: successful writers, artists are there to take up space in other peoples minds—ideas, a vision, hopes and dreams, their fears and the solutions.
The doubts we have often revolve around fear; the work is not good enough, I'm not sure what I have to say. Mine is 'why would anyone would care about my ideas, my art?', 'It's not my place; I don't feel worthy.
It's a fear I still struggle with daily, and putting my work out there is a challenge.
A community for an introvert is a love-hate relationship. We know we need it yet we prefer our own company.
I think we also mistakenly believe we have to be gregarious as extroverts. Through Susan Cains's book Quiet the Power of introverts, I've learned that we introverts find success in our introverted way.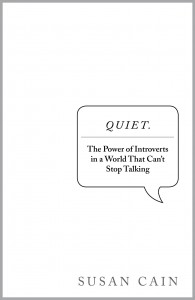 We are better listeners than extroverts, consider more our responses, think of others before ourselves, see subtly where others don't. It all adds up to being better at social interaction than we imagined.
The stigma of being introverted is slowly fading, but the legacy of those negative beliefs can still taint our efforts to find success.
For introverts, connecting to others via social media is one method; it's a more accessible, less overstimulating way of spreading our work. Also, the more personal one on one interactions is less stressful.
This post is a call to action for any introverted creative types; we have to face the difficulty of making connections with others. It's the best way to grow ourselves and a business.
Sharing our work, marketing, sales are the more significant obstacles for introverts, and that is why we need to focus more on those skills than extroverts.
Connection is why artists are artists; it's about sharing our ideas; without that, success is impossible. The best thing is you get to make friends along the way, find buyers and realise your potential when you have someone there beside you.
At a time when we've all been reminded why connection is important I feel the need to redouble my efforts to share and connect.
Photo by Dayane Alves from Pexels