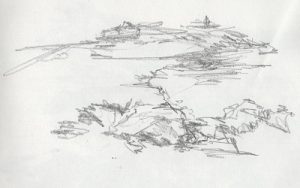 The paintings and sketches are just some from a recent St Ives painting short course I attended at the St Ives school of painting.
I was down there for five days and the course only lasted for three, but I wanted to experience what painting on-site was like.
Plein Air painting has a long tradition in western art. Dating back before the Impressionists. It was Monet who followed the ethos of painting outdoors to its limit by starting and finishing outdoors.
I didn't go that far.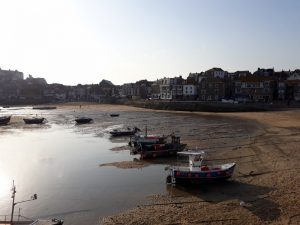 The first day in the morning we practised some sketching. The blind contour sketch surprised me in that the outline was surprisingly accurate to the landscape and I liked the outcome. In the afternoon we tried sketch using Oil Bars from Winsor and Newton.
I have wanted to try these for a while. I enjoyed the loose sketching you can get from them. You can't focus on detail because they have blunt ends. They work for all intents and purposes like oils. You can blend, smear, and dilute them with solvents. I might try these myself at home.
On the first day afternoon, strong winds and a solvent that didn't thin the paint meant that on the first day we retreated back to the studio. Where we worked on colour mixing.
The second day was better, on the beach we spent some time on a composition bit didn't finish. The evidence I was on the beach is that in the second painting above there is sand in the paint.
The first two days were also a focus for getting some sketching done just in case the weather would be as bad as it was forecast.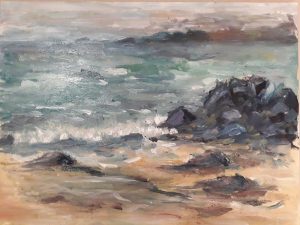 The third and final day was spent finishing our pieces before the end.
As for my art, I am pleased with it. I think I can do better, and it's not how I expected it to turn out. Nevertheless, I learned something.
It was quite an experience painting outdoors. The rain, the wind, sand, other people. I can't say I'm hooked yet, but I want to try it again with my own setup. A Pochade box I have recently bought Plein Air is not easy, so much information and so much possibility in front of you it's difficult to get a clear vision of what you want to create, and not get bogged down in detail.
Yet I liked getting out of my home/ studio and out into the world. But of course it's so much better if the weather is nice. Going outdoors, away from the obligations of home, not sitting in front of a computer really has an appeal to me.
I'll get some exercise and see the world a bit more because now I have a better excuse. I'll meet more people and I will get to enjoy the nice weather whilst we have it.
Life seems so much slower and quieter outdoors and especially in Cornwall. Very different from the frenetic pace in southeastern England.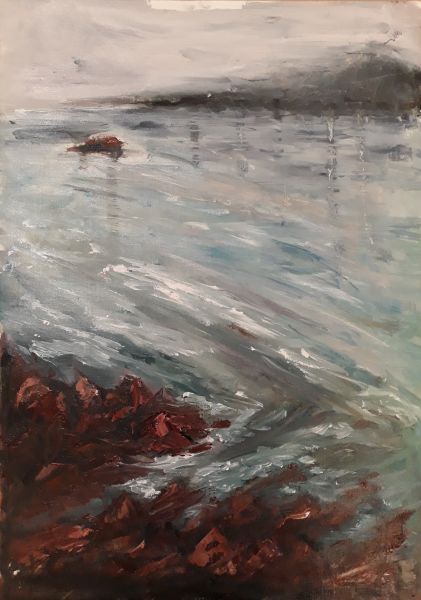 I could really see myself as an artist in Cornwall. Walking, painting, connecting with other artists. It's such a lovely place and you can see why artists are drawn there. The scenery, especially the coastline is what people come to see. It may be some time before I return but I'm so glad I went. Even though I wasn't sure what I was getting into. Which often stops me from trying new things.
Yet I have a desire to do more of this Plein Air thing. Sketching or even painting.
My next venture in art is to try another art course where I live and keep on painting. I'll see how it goes.