One unexpected side effect of minimalism is that it's fires me up. It seems odd to get excited about getting rid of stuff, decluttering and organising.
But I can get jazzed up by imagining myself inside a tiny apartment or tiny house. There's even a Youtube channel on it.
If it's not the house it's the furniture. Solutions that make better use of the space by folding up out of the way. Or hanging storage that utilises space normally left unused.
How cool is that?
But it's not just about decluttering, it's also about having fewer possessions.
What I have read has made me want to dive in. I can't wait to be rid of the unnecessary distractions and baggage in my life. It feels like a weight is being lifted off.
All the stuff that's lying on bookshelves, desktops and the floor I have realised is a problem. They are like the silent to-do lists. Saying 'look at me, I need doing, don't forget me!'.
I guess it's because I've become more aware of how baggage can lead to stress, worry and extra work. All our possessions need organising, as well as fixing when broken, and replaced when lost. More possessions means more work.
Downsizing or Minimalism speaks to me and to many of us like never before. I guess it's also part of the social change. That something has to be done about society that fosters so much destruction to our planet.
But it's not just the environmental issue that grabs me.
The book and film Fight Club reminds us that so much of our culture is trying to get us to buy crap we don't need. Finding happiness through possessions doesn't work, and we have finally learned this.
'The things you used to own, now they own you.'

Chuck Palahniuk, Fight Club

It speaks to the truth seeker part of me. Who wants to know how to live well.
Minimalism can be just a lifestyle exercise. But to me it's far more. It's part of a 'spiritual' quest to find meaning and happiness.
A part of us, of me sometimes just wants to get away from it all. Away from the work, the noise, the responsibility, the stress.
It what's makes the emptiness so compelling, and why so many holy men and thinkers are drawn to it.
I read Walden by Henry David Thoreau last year. His two-year adventure on the edges of society, in a simple house he erected himself living simply.
It's the ascetic appeal to live simply, away from society and really find out what's matters most is appealing.
I think there are times when we all feel like this. It's why we go away on holiday. To get away from the endless to do list and enjoy ourselves. Without obligation or authority compelling our choices and lifestyle. An escape.
Minimalism is about destruction and letting go to find the focus in our lives.
Without meaningless distractions and baggage we get to more spend time on the things we enjoy the most.
That means a better life for ourselves and a better planet along with it.
It was the book Goodbye Things by Fumio Sasaki that helped create this desire in me.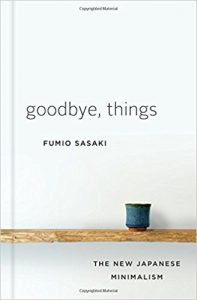 This book covers a personal exploration of this lifestyle ethos. He gives tips on on how to be more minimalist, but he also tells us about the impact it's had on his life, relationships, and work.
From reducing housework, and fewer expenses he explains how it has made him happier, less anxious, less troubled by the busyness and distractions of his life.
Sasaki's book becomes then not just an advocacy of a Minimalist lifestyle of also of a minimalist life as whole.
A way of finding the freedom we want, and a way to focus on what's important .
For those just starting out Goodbye Things is an excellent primer on some of the obvious and no so obvious aspects of living a life with less.
Minimalism, is a way of living better because it helps us focus on what matters, without the unnecessary ornamentation and decoration we carry to prove to ourselves we've had a good life.
Minimalism is a life skill that affects many parts of our lives. From our finances, to surroundings, relationships, work, leisure and in a grander sense meaning and purpose. I helps provide time and energy to find them all.
Minimalism helps us live with more awareness and intention, as we ask ourselves if our possessions provide value for us, or give us joy? It's an ethos that asks us to question what matters to us most. Are we spending our resources wisely on them? Instead of drifting through life we now more carefully cultivate a good life through what we own and purchase.