Recently I've been away on a short holiday, my first in three years, because of the pandemic. Travelling on the train, when I reached Dawlish in Devon, I saw the sea and the Horizon for the first time in a long time. I felt so calm and joyful at seeing it.

My relationship with the outdoors is mixed because of my history with social anxiety; the outdoors can be a scary place full of people. Staying a lot of the time indoors, I feel safer.
But this holiday has reminded me of why I like art, the outdoors and how it makes me feel. Subjects I'm interested in. Rocks, sea, water, waves, water sports. Sunshine, wind, clouds. It's a peaceful time to think, see, relax, and hear my creative voice.
Seeing the horizon made me realise how much I miss the outdoors, particularly the sea and coast.
Busy places I avoid because I get stressed, like urban scapes. To much visual noise, line shapes, movement, and people.
I like it because it's calming, intense and action, but at a distance.
The steady horizon. Life is full of things, people, places, buildings, work, projects, and tasks, all a clutter to our life. Then there is the reassurance of a steady but empty horizon. The soft sounds of the sea. A sea of change with a continuous line.
A constant horizon that signifies a changing ocean.
I don't feel like this at home, such a connection to the world.
Mountains and Sea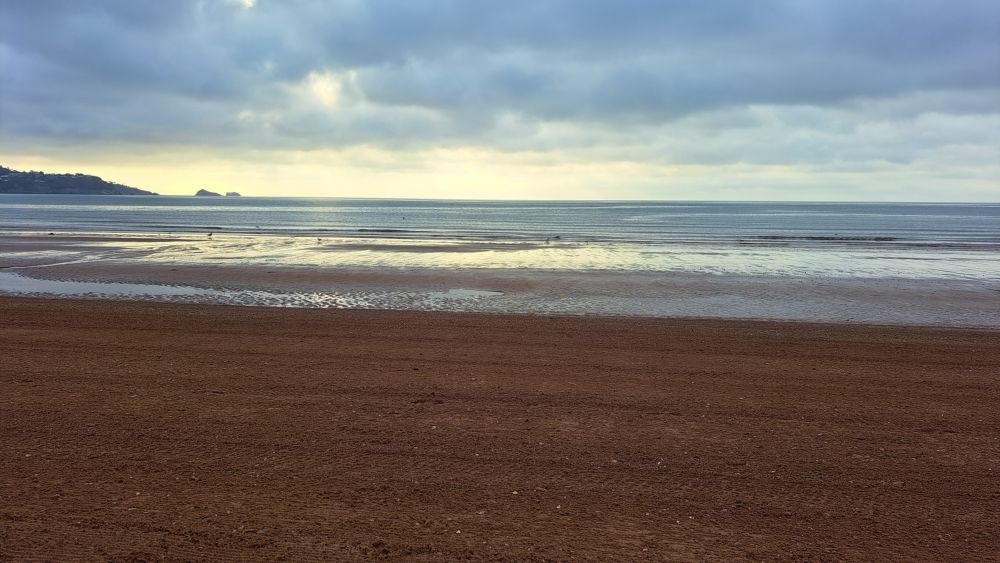 There is a real pull within me towards the wilder places. Most fields are cultivated and managed by humans. They don't connect to the wilder side of me.
I'm not so much of an urban artist; it's all too enclosed, and with my social anxiety, the noise, and the people, I associate more with stress.
I feel the connection to nature when there's a storm in the sky, but bright sunny days also make me feel more alive too. But there is something about the sea, its expanse, its mystery. The grandeur, the vastness, sometimes emptiness and the untamed aspects call to my wilder, chaotic side of me.
The mountains, the sea, or a desert have the imagery of a spiritual, religious side to me.
I seek calming art because I feel so anxious on my holiday. Summer scenes of boats, surfers and the sea help calm me whilst also joyful.
Grounded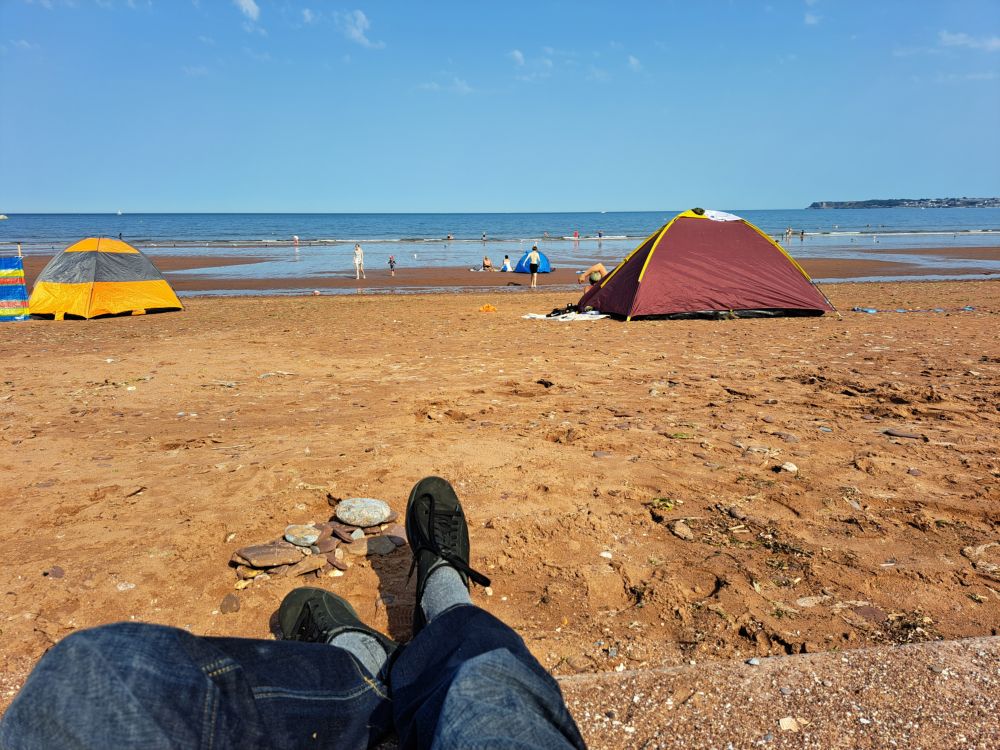 Lying down in the sand and shingle, I feel so grounded. Supported, safe.
Holidays bombard me with novelty. New experiences, all of which create stress. So every day, I had to lie down, rest, recuperate for an hour, and gather energy for some more exploring.
Macro
For subject matter, it's not just the grand vistas that draw me, but also more minor subjects, like waves, water, sand, and rocks, on more minor scales.
Every level has detail and interest, from the vast expanses to the smallest of rocks. The rocks at Beacon Cove had some attractive marbling.
Another place is right where the water and the sand meet, the river, rivulets, the ripples in the waters, and shapes and forms in the sand.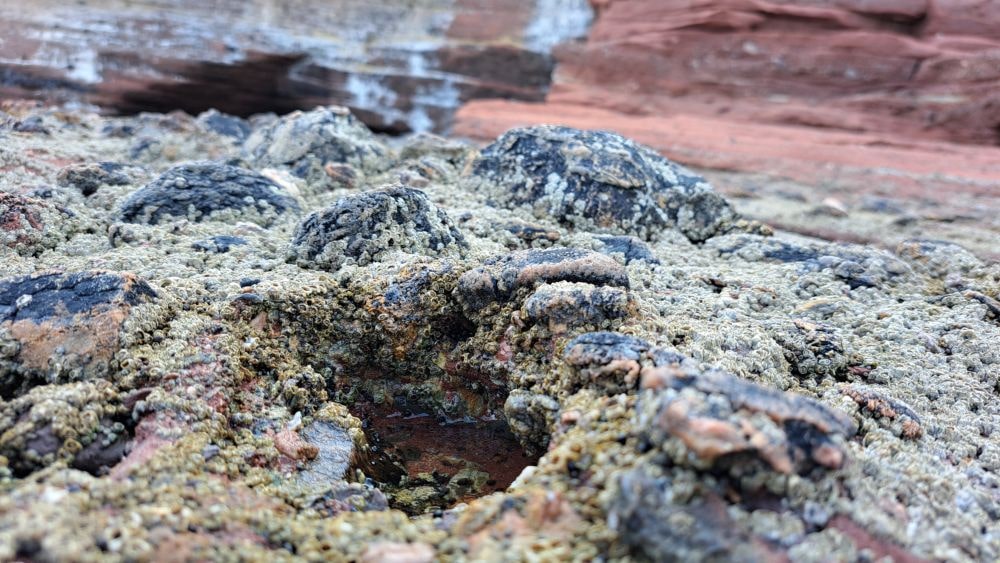 Back in my box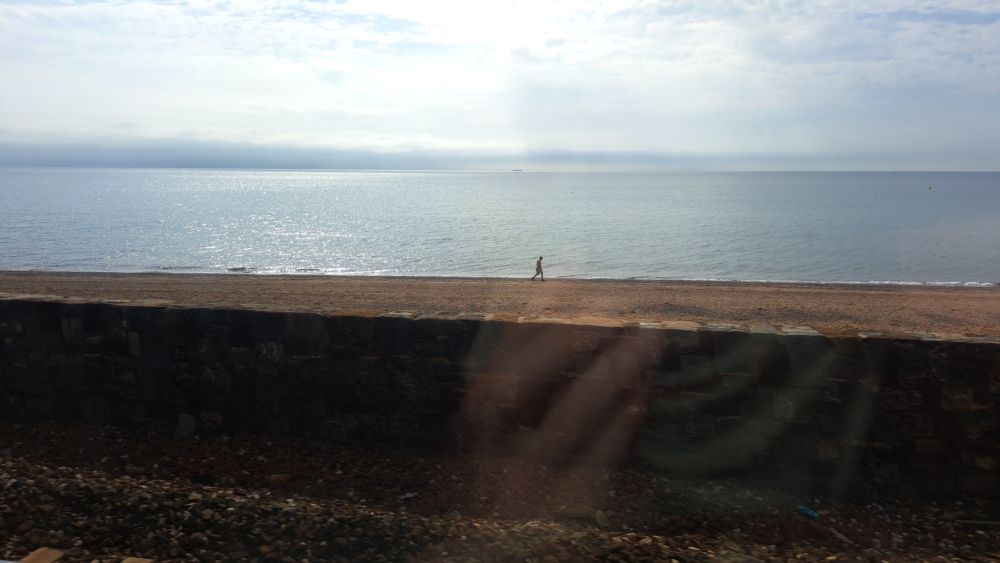 Leaving, I said goodbye to the sea; I felt bereft, not having that in my life as I sit at home. I now feel smaller in my box, my routine. A part of me rebels at coming back.
Last week I felt bigger, broader, and more expansive. I felt connected more to the world. I don't want to come back to my smaller life. I don't want to get back into the groove.
I want to be bigger, my life to be bigger.
That holiday inspired me to do more art, especially landscape and seascape.
What's more, I still have the rest of the summer to enjoy. That's why I like holidays in late spring or early summer. It's a wake-up call from the slumber and routine of winter.
I hope to go on another holiday soon, but I learned a few things about myself and my art for this one. The outdoors is important to me, as I've suspected for some time.
My art connects with the outdoors, the land, the sea, and even the people. This holiday has reinvigorated me from the fear and inertia of staying at home.